LOVE AT FIRST SIGHT
I am pretty sure that somewhere in the universe there are other intelligent beings. If they ever come to visit us and are gifted with eyes, they would have an insight into the beauty of our country. I was lucky and privileged to be able to study art, and I continue, and it is really difficult to find another Italy on our planet.
During my life, traveling in Italy and around the world, I have had many insights and consequently artistic intuitions. What I am telling you happened years ago in Murano in the Glass Museum. I love Venice and its islands. Murano had already been the destination of my other visits, but that day I felt a strong sensation. I think I perceived in that instant all the warmth of the ovens of the Murano masters who for 7 centuries have been feeding every day, alas less and less, the miracle of art glass. It is the art of fusion and compositions, of forced posture and measured movements, of assistants and tools, of water and steam, of the mass that transforms from flame into shape and color. In that instant my attention was captured by the cobalt blue of "Fauno e Capretta" by Pablo Picasso, created by Eugenio Costantini's "Fucina degli angeli". This is how I discovered the School. On several occasions I studied in Murano and applied all the techniques. Being in the oven with the Masters is energetic. Tiring, but energetic: you are not just creating, you are part of the work yourself.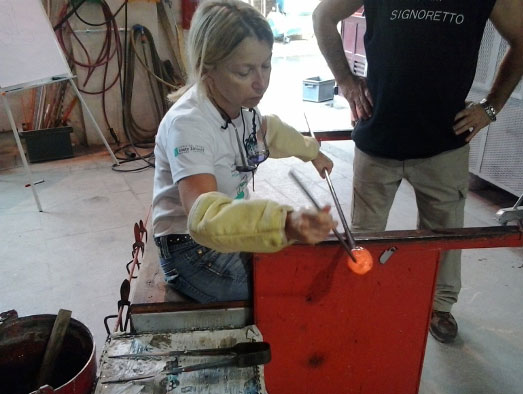 But having a laboratory with a furnace in my home would not have been easy to achieve and so I chose the glass fusing technique. A process that requires very clear ideas about what you intend to achieve. Unable to change during construction. Unlike blown glass which allows modifications and additions, because it works hot, the preparation of glass for glass fusing is done cold. Murano glass is cut and assembled, ground, superimposed and glued. I often insert gold or silver leaf and also use dichroitic glass, which gives iridescent effects.

I have to imagine the whole before the merger. The oven then does its job for hours – 12 or 15, sometimes more – and then when the temperature allows it the first peek: joy or disappointment. Yes, because just a little is enough to fail, even a little, and throw everything away. After a thousand tests and experiments in the laboratory to compose panels, trays and plates, lamps or shapes of nature, I gradually focused on small forms of light, almost small stars. And from there the step was short towards the jewels: rings, pendants, earrings or broaches.

I like to design and make jewels that women can wear in the most different moments of their day: from small colored pendants to more elaborate pendants for the evening.

Or by day, with different, clear colors.

But the rings are my favorite ones.

And as before for painting and engravings I took inspiration from the rhythms and lights of the cities, from travels and people, from nature, but above all from everything that comes from our wonderful culture, so alive and so admired.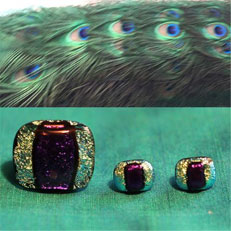 We all are heirs. There are those who appreciate and there are those who do. And even if in different ways we are custodians of this heritage of works and ideas. Little Murano is part of this heritage. I believe the delicate beauty of its transparent treasures is, only after the mandalas of colored sand, the most transient art. But since there are so many manifestations of human beauty, choose your art. And perceive the insight through it and feed on that unique moment, love at first sight.