"The Manifested World" – Claudia Selz and Mara Lombardi
Wooden panel 6 × 60 cm, Murano glass plate – 45x45cm
---
THE MANIFESTED WORLD
by Claudia Selz
The #glass fusion is an artistic glass processing technique by which glass is cut, assembled and melted in an oven to obtain decorated surfaces to be applied on doors, windows and furniture, or to create objects such as plates and trays, lamps and jewels.
For some years my aunt Mara Lombardi has been working with this surprising material and produces very refined accessories and jewels such as pendants, rings and earrings.
In the last few weeks I have had the opportunity to learn more about this technique in her laboratory, creating with her a large slab inspired by my painting "The Manifested World", a work that represents my personal perception of light.
The design takes place as for many other artistic works, it is like the method that has been used since ancient times to create the stained glass window of a church: on a white surface you draw the track to follow and piece by piece, cutting and grinding , we begin to fill all the available space, a gold insert here, a segment of dichroic glass there.
It is also necessary to strive to imagine the final result, letting the head wander a bit and then recover, and observing the work with new eyes so as not to get lost in the infinite shapes of the mosaic.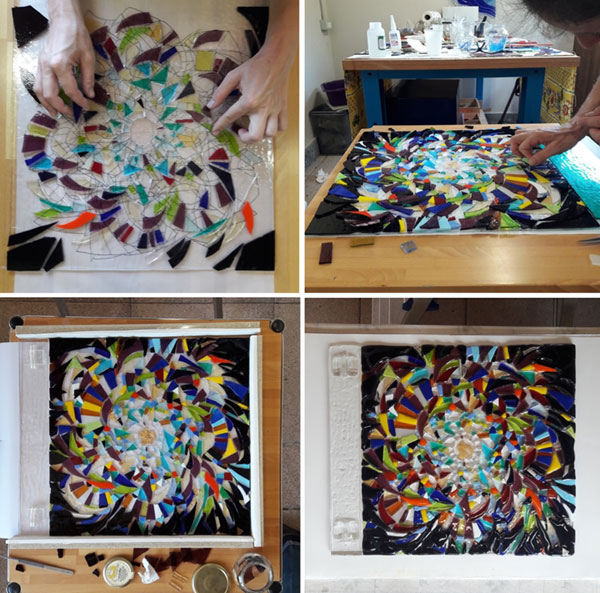 In the photos you can see the stages of processing from the painting to the finished work.
The work went into firing for many hours at a high temperature so that all the pieces would fuse together (some even change color, the edges are rounded, the shapes fit side by side) to compose a dynamic and bright, full of color and movement, made up of segments of many shades and shapes and overlaps
"Creating with glass is like painting with light."
This was an experience in which I learned to use new tools and new materials, to move with caution and attention (the glass breaks, the splinters and bibs cut to death) and to play with my imagination in a new way.
… and now I can't wait to start with new projects!
Thanks Mara!
https://www.instagram.com/p/B0RJXUjCy6Q/