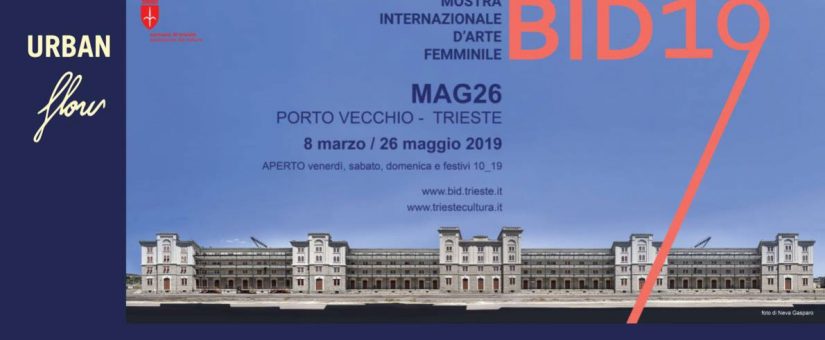 Urban Flow Experience at "International Women's Biennial",
Urban Flow Experience at the International Women's Biennial in Trieste, an event that lasted three months, which took me a lot, a lot, time, a lot of energy and gave me so many emotions.
Finally I was able to set up The Art Synesthetic Dark Room, which I had presented in Milan in 2015, in collaboration with Creasens: I was waiting for a favorable expo opportunity, and my friend from Trieste Alda Radetti, soul and creator of the BID, he gave it to me.
And again his friend Marco Genovese of Creasens, with his Precious Essences, collaborated in the creation of urban fragrances.
Trieste: an unforgettable experience.
I met other artists, we were more than a hundred.
I had a brief but intense contact with a very large audience, intrigued by the experience I was proposing.
At the inauguration the hall was full, we had no more seats to sit. There were the authorities and journalists, and many from Trieste and people who also came from across the border. Trieste is a city open to the world.

 And here is my Blue Box in which to try the synaesthetic experience: a protected place, a wooden cube, where you can enter and immerse yourself in the five senses, alone, with your own perceptions and sensory activation.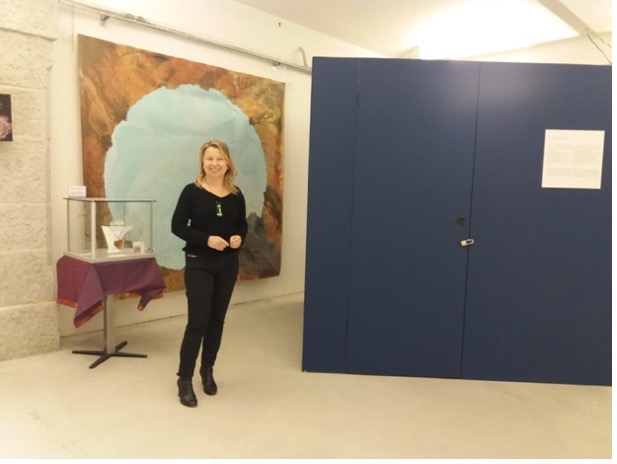 PERFUMES, CITY,SOUNDS, TOUCH AND TASTE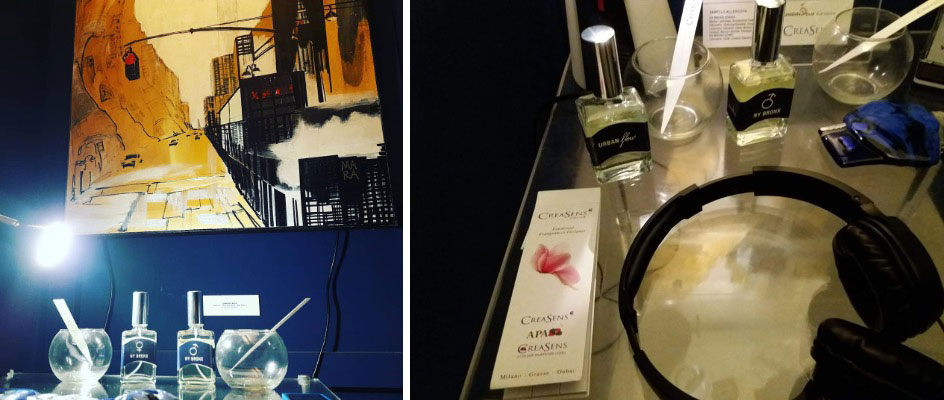 THE EXPERIENCE BECOMES A WRITING, THE WRITING BECOMES A LONG POEM
You enter and listen-see-touch-smell-taste in your own way, the sensations and suggestions are many. And every world is different: you open yourself to memories, or you are hit by your memories, images, or you project a possible future.
And then, leave a sentence, a letter, a poem, an impression.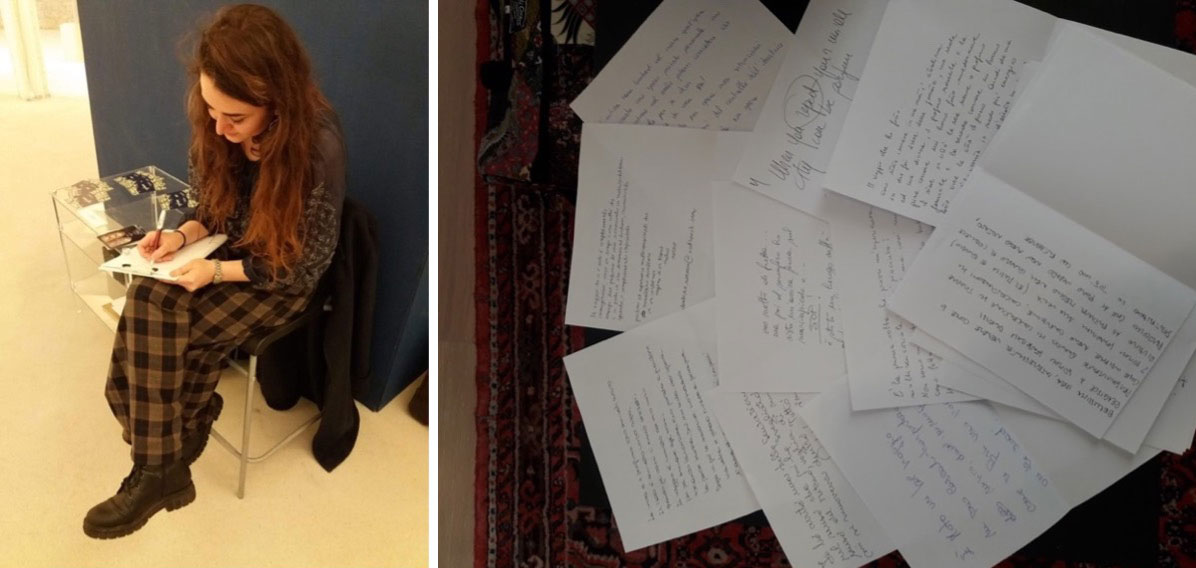 "Is this a psychoanalytic session? The Weather Report song takes me back, even the perfumes, maybe to a friend's house, maybe not. Emotions a little faded, it will be because of too much that I carry with me, perhaps a distance from things, from the absence of things. A session then on the counterattack … "

Paolo Cervi Kervischer

"I sit down and see a beautiful painting in front of me… I imagine NY even though I've never seen it… The Bronx…. considered an infamous place. But it does not appear so, it does not appear so to me. The right perfume, indeed, The fragrance, the music…. Perhaps it is really true that sometimes you have to "touch the work of art with your hand … The red light seems to indicate a" stop ", STOP for everything, perhaps a moment of pause, which helps me to analyze life. Even in places where crime is almost customary, there is purity and there can be peace and poetry. "

Marisa

This is the first time that I have tried a MULTISENSORY experience: I LIKED IT! I've never been to NY but that's how I got an idea. I realized that I had used the whole brain, the logical part appreciated the geometric figures of the painting, the instinctive one the more indistinct figures. Having been able to smell the perfumes accentuated the experience. Thank you!"

A. W.

The sight and the scent arrived immediately. Touch came a little later, when the eyes got used to it. The journey started from my nose and then reached my eyes. Touching the console I was led to look at the left side, softer, of the work. After a while the cars went by quickly and I could be able to perceive the air of that city. I imagined some hair blowing in the wind, running away fast until the next traffic light (red). Dear Mara, you took me on a trip to a city that I love and that I miss a little. Thanks for this experience.

B.C.

 

THE BLUE BOX

I imagined the Art Synesthetic Room as a place with a small entrance, an antechamber, and then the space in which to sit and immerse yourself in the experience.

And I designed and created the CUBE, the Blue Box.

But then, it was certainly not easy to do at home and even less to transport to Trieste!

I looked for and found a good artist from Trieste, and the feeling was immediate: also because he is the "Prussian Blue" of Trieste, I couldn't get better than this!

Roberto built the wooden cube, solid and removable.
What is left to me? The memory and experience of a long and intense expo, many writings by people who let themselves go, who trusted.
The certainty that I can design and set up an idea, which takes shape and is shared.
The pleasure of seeing that everyone interprets artistic expressions in their own way, that the world is full of possible worlds, of imagination, of creating new experiences.
The ability to communicate with strangers on the basis of shapes, colors, scents in a free way and in an ideal fantastic terrain.
And then, immediately after, I closed in style at the Nuova Accademia di Belle Arti in Milan, with a one-shot day, on May 30th.