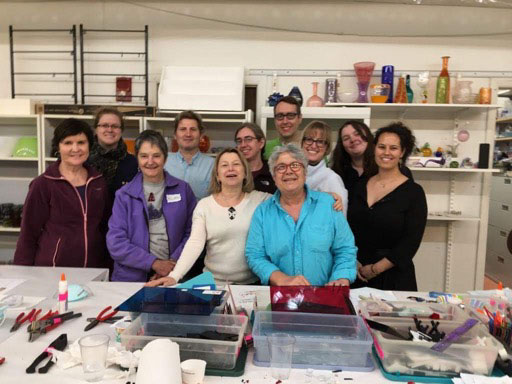 American synchronicity
In 2012, returning from a trip to New York I had a desire:… "I would love to be able to return to the States and exhibit my works there".
Two months later, in summer, at the end of a trip to Trieste, I made a stop in Venice to visit the Murano Glass Museum that I had never seen.
A shock: ancient and contemporary glass. An exceptional material! The transparencies, the shapes, the colors.
Back home I couldn't think of anything else and in September I was already back in Murano to study the art of glass with Maestro Giancarlo Signoretto: a true fall in love.
And on that occasion I was lucky enough to meet Joni Seager, a professor at Bentley University in Boston, with the same passion as me. Great feeling and a friendship then cultivated on fb, a virtual but effective place to keep distant ties alive.
Also because in the meantime everyone has continued their own life, I set up my glass workshop, continued to work and to paint. Joni to attend courses on the art of glass in Boston, until one day, in 2017, she invited me to give a course!
At NOCA Glass School parallel roads and Jungian synchronicities.
A two-day workshop at NOCA – North Cambridge Glass School in Cambridge (MA), in April 2018.
Well, I can declare it, yet another demonstration of a complex future, prefigured, put in black and white in 2012, and achieved in 2018.
In 2012, I could not have foreseen that it would be the passion for glass, and not that for painting and engraving, that would bring me as an artist to the States, and the sense of synchronicity is in this connection *.
The workshop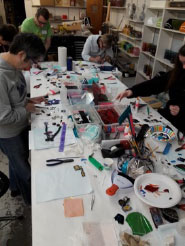 Joni called me as a visiting artist at the Noca Glass School: I had to hold a two-day workshop for people interested in learning about and experimenting with the creation of glass jewelery.
It is a creative work of prefiguration and design first, of precise elaboration later.
For this workshop I prepared myself, both in technique, making American glass jewels, and from a linguistic point of view, studying the nomenclature of glass processing (and with a bit of natural fear in public speaking, in another language).
I started with materials, shapes, tools and some of my jewels. The idea was: "I want to experience a creative moment, activate their right side of the brain". I described my jewels, describing their creation. And then I asked them to imagine the jewel they would like to make, even if it is complex. It worked: they first designed and then created pieces that reflected their feelings, expanding into other fields as well, expressing their character.
I started the workshop using clustering: the participants had in front of them all the topics that they would touch and experience in the two days.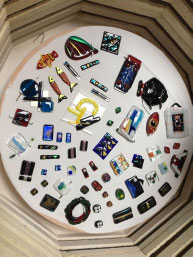 Already on the first day, the participants designed and cut the glass, ground, glued and prepared their own jewels. A silent and concentrated work, almost uninterrupted for 6 hours.
And, magic, the day following the opening of the oven they were amazed: they were happy and amazed to see their jewels, to see the results. They had released their imagination.
A magical moment: in those two days they had the demonstration of being able to do something beyond normality. Beyond what they considered possible. Pendants and rings as a means to communicate, to bring out one's symbols, express one's emotions.
But, where is the synchronicity?
When Joni and I met in September 2012 we could not have imagined that I would have my own artistic workshop and that Joni would have bought a glass school: the daimon anticipates us, beyond our ability to understand it.
---
* Synchronicity is a concept introduced by Carl Gustav Jung in 1950, defined as a principle of acausal links. It consists of a link between two events that occur simultaneously, connected to each other but not in a causal way, that is, not in such a way that one materially affects the other. They can belong to the same context or meaningful content, like two clocks that have been synchronized on the same time. And it can only be visible when there is a clear target.